Keeping your home clean can be a challenge, especially when you have little ones around. You want to make sure that your home is safe for your children, but you don't want the cleaning process to be too much of a hassle. Luckily, there are plenty of kid-friendly cleaning tips that can help you keep your home tidy without driving you crazy. In this blog post, we'll be discussing five tips for kid-friendly cleaning that will keep your kids safe while keeping your home clean and clutter-free. With these tips, you can enjoy the satisfaction of a clean home without sacrificing your sanity!
1) Keep all cleaning supplies stored in a locked cupboard
It's important to keep all cleaning supplies and detergents locked away from curious hands and mouths. This is especially important if you have small children in the home. To prevent accidents, make sure that all cleaning supplies are stored in a cupboard with a lock or latch. You should also consider putting all dangerous chemicals such as bleach and other acids in a separate cupboard that can be locked.
If you do not have a locking cupboard, then consider using childproof locks on all cupboards where these products are kept. Keeping all cleaning supplies in a safe place will help ensure that your kids stay safe when you are cleaning.
2) Put together a cleaning kit for your kids
If you want to keep your kids safe while you're cleaning, it's important to put together a cleaning kit for them. This will give them their own set of supplies to use while they help you clean.
Start by getting a small caddy that your kids can carry with them. Fill it with the appropriate supplies like sponges, towels, dusters, and all-purpose cleaner. Make sure to use age-appropriate tools for young children and avoid using anything that is potentially hazardous.
Once the caddy is filled, teach your children how to properly use the items in the kit. For example, show them how to wipe down surfaces without leaving any streaks or residue. Have them practice on their own so that you can be confident in their cleaning skills.
3) Teach your kids how to properly use cleaning supplies
Making sure your children understand how to use cleaning supplies safely and effectively is an important part of keeping them safe while you clean. Start by introducing the basics of cleaning - emphasizing that cleaning supplies are for cleaning and not for playing with. Explain that chemicals can be dangerous if used improperly and that it's important to read the directions on each product before using them.
When your child is old enough to help with cleaning, make sure they understand which chemicals to use for different surfaces, as well as the proper application techniques. Don't be afraid to show your kids how to properly use a mop, a vacuum, a duster, and other cleaning supplies so they can learn the right way to do it. Additionally, provide adequate instruction when it comes to chemical-based products, including how to measure, mix, and apply them.
Finally, ensure that your kids understand the importance of washing their hands after handling any type of cleaner. This will help reduce the risk of accidental ingestion or contact with potentially dangerous chemicals. With the proper instruction and supervision, your kids can help out with cleaning without putting themselves in harm's way.
4) Schedule cleaning time into your day
Cleaning can be a daunting task when you've got little ones running around, but it doesn't have to be. Scheduling some time each day to focus on cleaning can help keep your home looking and feeling tidy and organized. One way to ensure that cleaning becomes part of your regular routine is to plan ahead. Before the start of each day, make a quick list of the tasks that need to be completed around the house. This will give you an idea of what needs to be done and how long it will take you. Make sure to factor in the time needed for distractions, such as children playing or needing help with something.
If you want to make cleaning more enjoyable, try involving your children. Give them specific tasks, like putting away toys or dusting furniture. This can help teach them responsibility while also helping you out. You may also want to set a timer and turn it into a game. This can help keep their attention and make the task fun for everyone involved.
By taking the time to plan ahead and involve your kids, cleaning your home can become easier and more enjoyable for everyone. With these tips in mind, you'll have a spotless home in no time!
5) Take advantage of technology
Technology can be an invaluable tool when it comes to keeping your home clean and your kids safe. There are a variety of apps, gadgets, and other technology options available that can help you keep track of cleaning tasks and even automate some of them.
For example, robotic vacuums can clean your home on a regular schedule without your help. You can also find cleaning-focused apps that will remind you when it's time to tackle certain tasks. Some of these even integrate with voice-controlled devices like Amazon Alexa, making them even easier to use.
No matter what type of technology you use, it can be a great way to make sure that your home is clean and your kids are safe.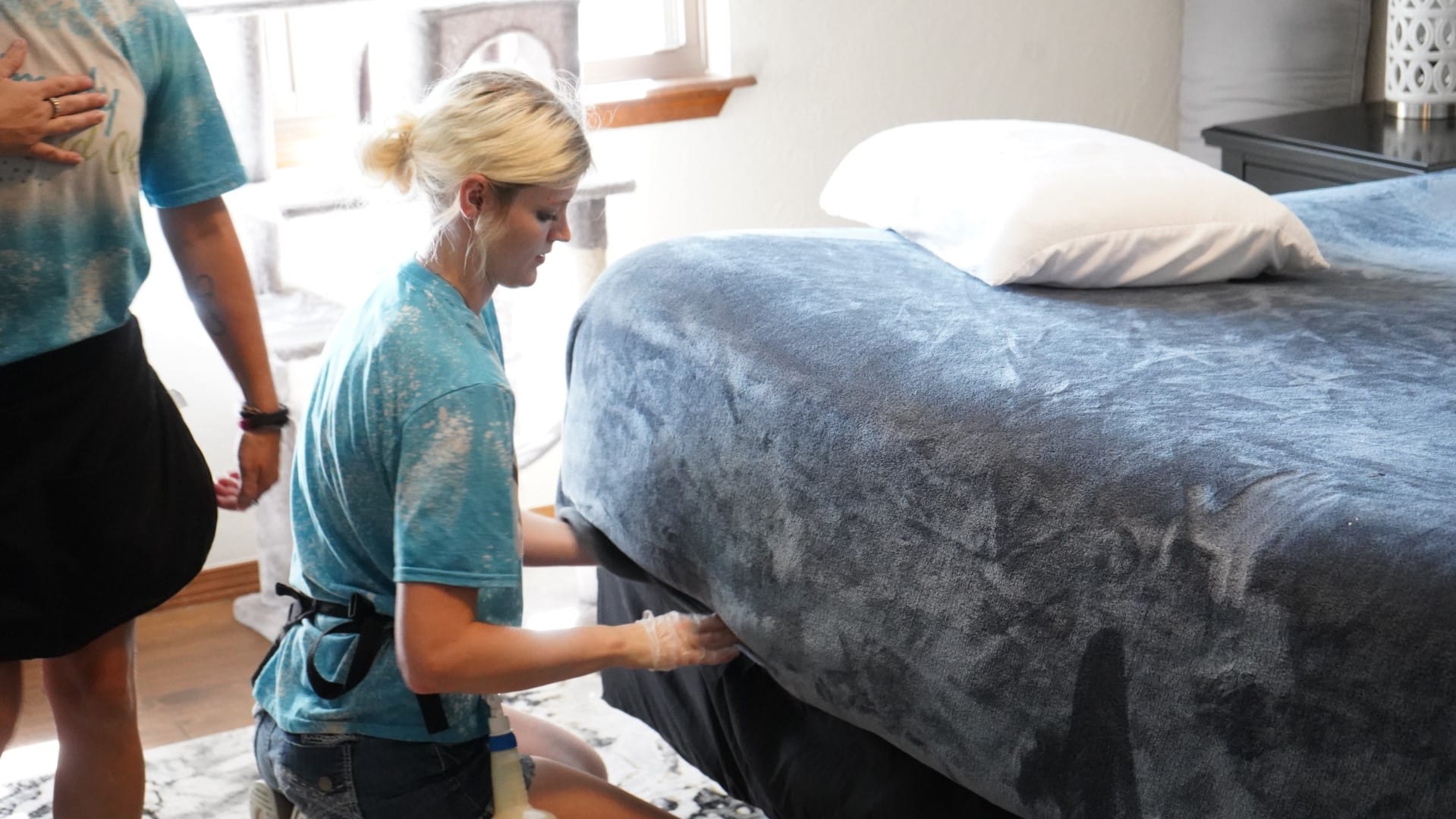 Hire a cleaning service
If cleaning chores take up too much family time then let Simply Maid OK cleaning services take care of your home! Our services include residential cleaning services, move-in and move-out cleanings, deep cleaning services and more. Our cleaning professionals will be able to answer any questions you may have about how we can help with your specific needs or concerns. We will leave you and your space feeling clean and refreshed.
Call us at 1-918-770-6346, request a quote, or email at info@SimplyMaidOK.com to schedule an appointment today!