Are you looking for the best house cleaning services in Bartlesville? Look no further than Simply Maid OK! With years of experience, a commitment to top-notch customer service, and reasonable rates, they are the go-to option for house cleaning services in Bartlesville. Whether you are looking for a one-time clean or regular weekly visits, Simply Maid OK has you covered. Discover and uncover why Simply Maid is the best cleaning service to choose for your home.
Why Use a Professional House Cleaning Service?
When it comes to keeping your home clean and tidy, you may be tempted to take on the task yourself.
However, hiring a professional house cleaning service has many benefits. From deep cleaning to recurring cleaning, a professional cleaning service can give you the convenience, reliability, and peace of mind that a DIY job cannot provide.
Using a professional cleaning service eliminates the need for you to worry about spending hours scrubbing and organizing your home, as well as having to buy expensive cleaning supplies.
Plus, the best professional cleaning services use eco-friendly products and specialized tools to make sure your home is spotless from top to bottom. And with their help, you'll be able to maintain your home's cleanliness with recurring cleaning services that fit your budget and lifestyle.
By taking advantage of the benefits of hiring a cleaning service, you can be sure that your home is free of dirt and dust while you focus on more important things. So, if you're looking for the best house cleaning services for your Bartlesville home, Simply Maid OK willingly assists!
What Services Does Simply Maid Offer?
At Simply Maid, we provide a range of cleaning services to our clients. Whether you're looking for recurring cleaning services, deep cleaning services or the best professional cleaning services in Bartlesville and other surrounding areas, our experienced and dedicated team of housekeepers is here to help!
We understand that every home is different and requires a unique approach when it comes to cleaning. We make sure to tailor our services to meet your specific needs. Our core services include: general cleaning, deep cleaning, move-in/move-out cleaning, special occasion cleaning, spring cleaning, pet waste removal, window washing, and pressure washing.
In addition to providing excellent service, we also prioritize customer convenience.
That's why we offer flexible scheduling options with no long-term contracts. Whether you need a one-time clean or a recurring appointment, you can count on us for quality results.
There are many benefits of hiring a cleaning service like ours. Not only does it free up your time so you can focus on other important tasks, but it also allows you to enjoy a clean and healthy home without having to do the hard work yourself.
When you entrust us with your housekeeping needs, you can rest assured that your home will be thoroughly cleaned and disinfected. We use top-of-the-line products and tools to get the job done right.
When you choose Simply Maid, you can be confident that you're getting the best professional cleaning services in the area.
Simply Maid is Different From The Rest
When you're looking for a professional cleaning service, there is no better option than Simply Maid.
We have been providing top-tier cleaning services to homeowners in the area for over five years and have developed a reputation for providing top-notch services. Our team of highly trained and experienced cleaners use only the highest quality products and take extra care to provide an outstanding level of cleanliness to every home we service.
What really sets us apart from other cleaning services is our commitment to deep cleaning services.
We go beyond just surface cleaning and use high-grade cleaning products and methods to ensure that your home looks its best. Thorough deep cleaning can make a huge difference in the look and feel of your home. With pride and honor, our company offers it to our customers.
We also go above and beyond when it comes to customer service.
Our team is always friendly and willing to answer any questions you may have. We also make sure that our cleaners are up-to-date on all cleaning techniques, so you can rest assured that you will receive the highest quality service every time.
At Simply Maid, we are committed to making sure that our customers get the best service possible.
We strive to provide the highest quality deep cleaning services in Bartlesville and are proud of the exceptional results we are able to achieve with each and every job.
Our Customers Say This About Us
"Simply Maid did an excellent job cleaning my home. Very thorough cleaning that left my home looking wonderful. Stephanie and her staff are professional, courteous and helpful. Highly recommend!!" – Laresa
"Simply Maid has made my life so much easier! My kids look forward to when Dede comes. Wonderful service!" – Maddie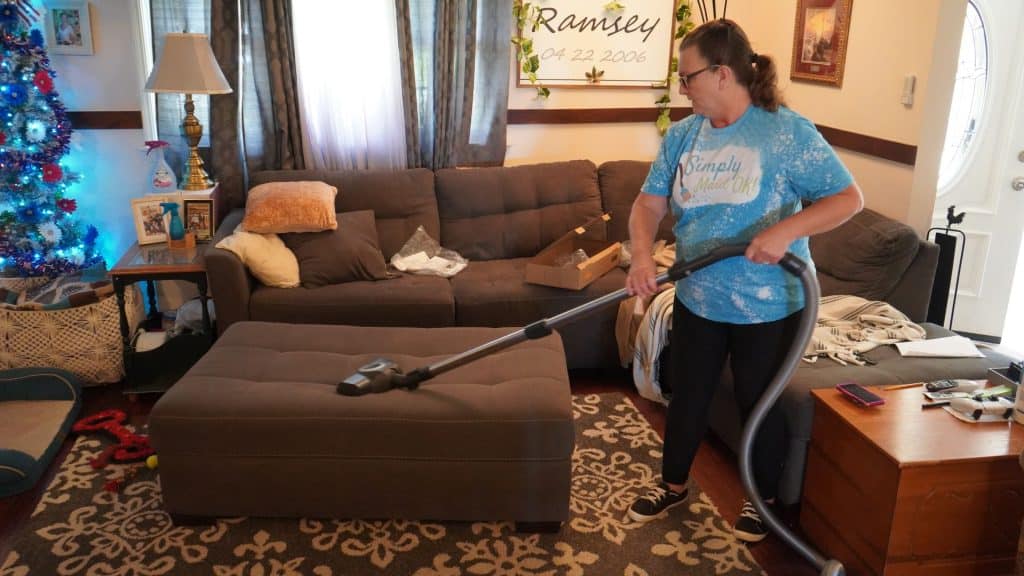 How Can You Sign Up?
All you need to do is fill out the form on our website and we will get back to you with a quote for your cleaning services. After agreeing on the quote, you can make a payment online or by phone. Once a transaction is complete, one of our cleaning specialists will contact you to schedule the first appointment. We provide the supplies, and all you have to do is sit back and relax while your home is given the deep clean it deserves.
If you have any questions, don't hesitate to reach out to our friendly customer service team who are more than happy to answer any queries you may have. So why wait? Book today with Simply Maid and enjoy a sparkling clean home!